How to take care of your baby carriers and baby wraps?

A quality baby carrier or baby wrap can be a considerable investment and by taking appropriate care you can easily make them last for the entire babywearing period.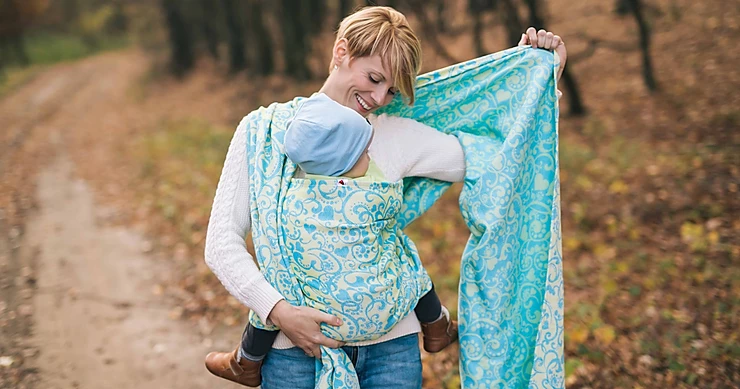 Baby Carriers/Wraps made from 100% Cotton require little to no maintenance
In general, carriers and wraps do not need to be washed often. However, to be clean and safe for your baby they needed to be washed and ironed once in a while. As you invest money into a high quality carrier or wrap you wish to keep it in the top condition and keep it in its best possible condition as long as possible.
This is the reason why it is necessary to carefully read the instructions about how to take care of your product; these instructions are usually written on a label attached to the product or in an accompanying brochure.
Let's take a look on what to keep in mind when taking care of wraps or carriers. Material composition is the most important thing to consider. There are different ways of taking care of a wrap made from 100% cotton and taking care of one containing linen or wool beside cotton.
Taking care of a cotton wrap
A wrap made of 100% cotton require nearly no care. We recommend it for babywearing a newborn due to its pure quality and sensibility to fragile baby's skin. Those suffering from different forms of eczema and skin irritability know the preciousness of cotton – all doctors recommend cotton, because wearing clothes made of cotton causes no irritation. Cotton is suitable for carrying bigger children, too, thus can be used for the whole period of babywearing (keep in mind material-weight capacity, of course).
Good news for mummies who buy cotton wraps – you can wash it in a washing machine on temperature 30-60C, speed 1000 (max). Truth is that wraps made of cotton can be dried in a drier using gentle cycle but we suggest you to make sure and check a label on your wrap. Additional bonus of cotton wraps is no need of ironing after washing. However, you would do no harm if you iron it anyway. By ironing, you breathe into your wrap even greater softness. Always set your iron on minimal temperature and keep steaming your wrap as you iron it. Wrap made of cotton is an excellent choice for baby suffering from re-flux due to its easy maintenance. The wrap can get dirty very fast but you can wash it, dry it and use it in no time.
Taking care of a carrier made of cotton is as simple as of a cotton wrap, you can wash it (following above mentioned instructions). We recommend covering buckles into some cloth to prevent them from chipping in a washing machine. You can put your carrier into pillowcase as well.
Taking care of a wrap containing linen
Many mummies are afraid of linen because of its bad reputation of requiring extra effort and specific maintenance. Mumms willing to pay appropriate attention to her linen wrap is in return rewarded by receiving an incredible babywearing tool. Functional and life saving in hot weather as well as in cold winter thanks to its thermoregulatory function. It is a great plus – linen has and ability to cool down in hot weather and warm up when it is cold. New linen wraps are little bit harder and firmer. They need to be worn to get softer, especially when you want to carry a newborn. Linen wraps require frequent ironing, every two to three days. Ironing prevents making folds that can corrupt linen threads. You should smooth and fold the wrap after each binding – each time using different style is appreciated. The wrap containing too much linen is not suitable to be sewn into carrier.
Wash the linen wrap on 60 C – but always check the label first, temperature may vary. This temperature is recommended to prevent damage of a structure which may be caused by using lower temperature. Damaged linen wrap has gaps in its structure caused by dislocated linen threads – may be reversed by moving threads back to their place manually and subsequently washing the wrap on higher temperature. Keep in mind to iron the linen wrap as we mentioned above – every two to three days, using a steaming iron. Linen is just a part of the wrap beside cotton which still creates a majority of the wrap, so chose washing cycle for cotton when setting up your iron. The best time to iron your wrap is when the wrap is not completely dry but still a little wet.
Taking care of a wrap containing hemp fabric
The hemp fabric is as thermo-regulating as linen fabric. Even though hemp fabric is very durable, be careful when washing to prevent damage. The material requires a lot of water when washed. You can set your washing machine on 40-60 C. Do not use washing powder but always use liquid washing detergent and do not use fabric softener. This kind of wrap requires frequent ironing but not as often as linen wrap. When setting your iron use a programme for cotton with steaming. The wrap needs to be ironed once a week when used daily. We recommend you to smooth and fold it with your hands after each binding.
Taking care of a wrap containing silk
Silk is a very popular and luxurious material used in wraps beside cotton. Although this combination is not commonly chosen, let's look at its benefits. Silk has an excellent thermoregulatory function; it can adapt to changing weather conditions very effectively. It is perfect for summer wearing as it is gently cooling material. Using silk beside cotton creates beautiful softness. Some wraps with silk can handle carrying heavier children, some are suitable only for newborns or smaller children. Always check material-weight capacity first. We suggest using silk wraps to experienced mummies. It is not very beginner-friendly as silk is a little slippery, thus it may be quite challenging for mummy-beginner to bind the silk wrap.
Silk wraps can be hand-washed only, using water of mild temperature – 30C. Water used to wash and water used to rinse should be of similar temperatures as silk does not like rapid changes of temperature. Use liquid washing detergent for silk. Hand wring it softly placing it between two towels. Silk wrap cannot be dried in a drier nor direct sunlight. Direct sunlight may cause irrevocable changes in colour. Silk wraps need to be ironed when still a little wet. Set up your iron on programme for silk, without steaming or spraying (cold ironing).
Taking care of a wrap containing wool
Everybody knows that wool is perfect for winter and cold weather. This applies not only to woollen sweaters and socks, but to wraps as well J Wraps containing wool cumulate heat and retain moisture. Wool is antibacterial, which is a great plus. Most commonly, wool is used for babywearing in autumn or winter, but when you chose a wrap not very thick you can use it in spring and summer as well. In summer, you can benefit form its thermoregulatory functions as well as ability to transfer sweat away. Woollen wrap should be hand-washed on 30C using liquid washing detergent for wool. Hand wring it carefully and dry it loosely laid on a drying rack or balcony. Woollen wraps do not require being ironed.
Taking care of a wrap containing cashmere
Cashmere used in wraps is functional, luxurious but also quite expensive. Cashmere has excellent thermoregulatory functions, it can cool your baby down in summer and warm the baby up in winter. As well as above mentioned wool, cashmere is comfortable and very durable and able to handle carry heavier children. Cashmere wraps are hand washed on 30C, you can use liquid washing detergent for wool. Do not dry these wraps in drier but dry them loosely stretched out. As well as speaking of woollen wraps, ironing is not required nor recommended.
Taking care of a wrap containing reprieve and tencel
Materials repreve and tencel are similar in features. Both are soft and able to handle carrying heavier children. Both materials need nearly no "maintenance", similar like cotton. Both materials are airy, it makes them popular for summer babywearing. Tencel is natural material and repreve is made from recycled plastics. Tencel can consume up to 50% of moisture without being significantly wet. It feels cool to touch, just like silk. As opposed to silk it can endure higher temperatures during washing in a washing machine.
Wraps containing repreve or tencel should be washed in washing machine on 40C. Ironing is not required but can cause no harm if you do so. Tencel and repreve are very durable, it makes them suitable for carrying bigger and heavier children. Wraps containing tencel and repreve are suitable for Lenka carriers.
Taking care of a wrap containing bamboo
Wraps containing bamboo /bamboo viscose are ideal for carrying newborns and for summer time. Bamboo is very functional as it has strong thermoregulatory features and ability to transfer sweat away, as well as great adaptability to changing weather. It is important to keep in mind that bamboo and bamboo viscose are two different materials with different features. Bamboo viscose is great for newborns, it is naturally soft (from the beginning) and suitable for carrying lighter babies, in comparison to bamboo. As opposed to bamboo viscose, bamboo fibres are stronger and stiffer therefore bamboo wrap must be "worn" first (in order to soften it). If you want to carry heavier child look for bamboo instead of bamboo viscose.
Bamboo wraps require careful maintenance. We recommend to wash them on a lower temperature, using hand wash programme, 40 minutes max. No need of ironing. If you insist on ironing, use "cold ironing programme" without steaming.
More tips on how to take care of baby wraps and ergonomic baby-carriers
Use liquid washing detergent not containing bleach or whitening component. It would damage colours

Do not use fabric softener

Always wash and iron new wrap first, it is not just hygienic but practical as well. Washing will wash away possible dirt, threads will set into their place and a production circle is closed. Newsflash! Lenka carriers are pre-washed therefore you can use them as soon as you get them.

Wash separately, both wraps or carriers, do not wash with other clothes

Always check instructions on a label first and follow them when washing or ironing

Wrap buckles into a cloth (socks can be handy) to prevent possible chipping. You can put whole carrier into a clean pillowcase as well

Wash on low speed. Woolen or cashmere wraps must be hand-washed only (do not spin in the washing machine)

The best way of drying wraps or carriers is to lay them freely on a drying rack or on balcony clotheslines. Cotton wraps may be dried in a drier, check the label first to be sure.

Cotton wraps need to be ironed after the first washing, further ironing is not required. Linen wraps and wraps with hemp fabric require frequent ironing. We recommend using steaming iron but avoid steaming when ironing bamboo and silk wraps

When containing two more materials (threads) beside cotton – follow the instructions for care of the most sensitive material used

When you purchase a baby-carrier you do not need to wash it first. You can start babywearing straightaway. However, you never know how much time the carrier spent in a box, therefore you can try it and wash it whenever you feel like it. Washing will refresh the material and carrier will straighten up when dried and ironed.

Lenka carriers are ergonomic carriers made in Slovakia. They are made from baby-wraps, therefore, they need care according to material which was used for the baby wrap. Generally speaking, carriers do not need to be washed frequently, only when really needed. The ideal temperature is around 30-40 C, do not dry in a drier, only freely stretched out, you can iron it gently if you want to.
---