Recipes for 12 months old babies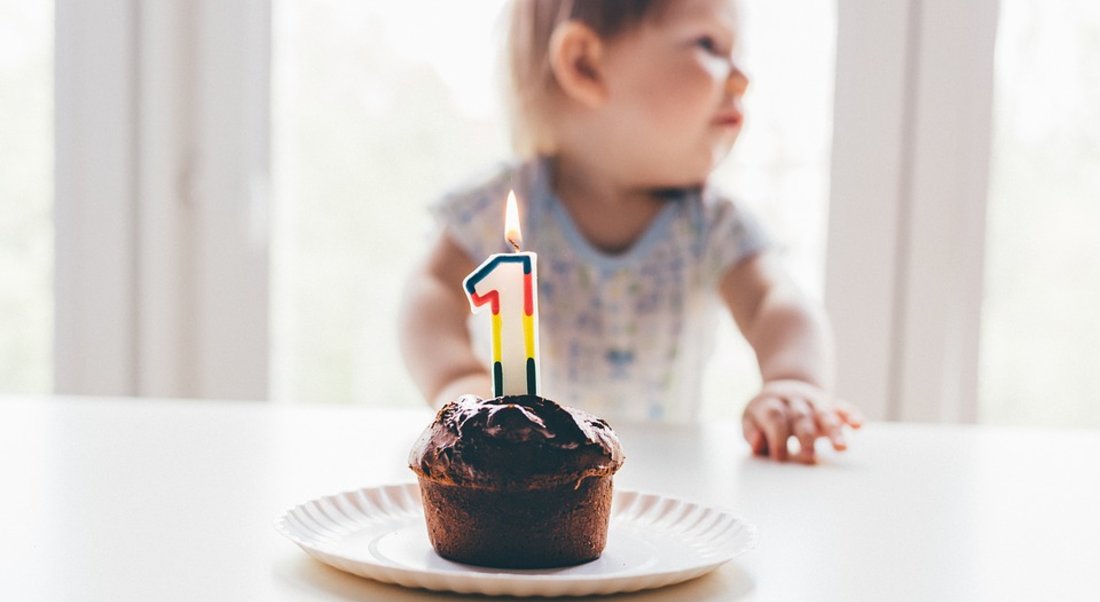 When your baby reaches the first birthday, he/she enters a significant milestone in the diet. In the age of one, your baby can eat almost everything. With little exceptions, of course, so let your baby explore the world of new flavours and textures.
When can babies eat eggs?
Baby under the age of one can consume only egg yolks because egg whites can cause allergies. But after reaching the age of one, your baby can try to eat the whole egg. Eggs are rich in protein and healthy fats, and they can be digested pretty easily. In fact, protein from eggs is the most digestible one as compared to other kinds of animal protein. Substances in egg yolks brain have a positive effect on baby's overall development, improve attention and support concentration. Eggs are rich in vitamins A, E, D, K, B12 and contain essential minerals.
Recipes for your 12-months-old
A one-year-old toddler should still drink her milk (breastmilk or formula) and complement it with solid foods. He/she is big enough to eat together with her family. So if you want to skip cooking separately for your kid, you can modify the way you prepare food for your family, and you can eat all together. Keep your meals light, low-fat, lightly seasoned a nutritious and you will all, not only your baby, benefit from it and thrive.
1-year-old toddler and new foods
With the first birthday come new foods.
We have already mentioned eggs as the newest addition to your toddler's food family (note: when trying new food, always watch for possible allergic reaction). What else can you introduce to your baby?
Citruses
When it comes to citruses, be extra careful and take it slow. Let your baby try just a tiny piece of orange or tangerine, watch closely for an allergic reaction, and if nothing out of ordinary occurs within 24 hours, it should be safe for your baby to eat more.
Soya-beans and soy products
Soya-beans are rich in protein. You can try to serve your toddler tofu ("cheese" made from soya-beans) which is not only full of protein, vegetable fat, dietary fibre but also rich in calcium and iron.
Honey
Honey is a kind of natural sweetener, but it is not recommended for babies and younger kids as it can contain bacteria clostridium botulinum (very poisonous). These bacteria can cause botulism in babies. Babies do not have a strong immune system, and they have less acidic microflora in their stomach so they cannot fight these bacteria which are otherwise harmless to adults and older children. If you want to sweeten your baby's food, you can use natural cane sugar, cane molasses, maple syrup or stevia. When your baby is old enough, 12 months and up, you can start to use honey. Take it slow, start with small amounts and alternate it with other sweeteners. You can use honey not only to sweeten your baby's tea and milk, but it goes well with yogurt and porridge, too.
Fruit and veggies
The digestive system of your one-year-old is getting stronger, so it is about time to offer your baby "heavier" fruit or vegetables such as pears, plums, cabbage, Brussel sprouts or grapes.
Sample menu for one-year-old:
Let's get inspired
Breakfast
There are many possibilities of what to serve your one-year-old for breakfast. Bread with home-made spreads, veggies, cheese, ham, scrambled eggs end so on. The possibilities are endless. Mix and match and have fun
Snacks
Fruits are always the right choice for kids. You can serve different kinds of fruit, creating funny shapes on a plate (if you have a picky eater, it can catch his/her attention) or you can make purees. Always try to choose fresh, seasonal and local fruit.
Lunch
Your one-year-old is a big eater now! Just like you, he/she can eat soup and a main dish for lunch. If you have soup with meat, then serve a meat-free main dish which you can complement with a compote.
Afternoon snacks
As an afternoon snack, you can offer your baby yogurt with fruit (with/without honey), a slice of bread with marmalade, cacao, tea. If you have a sweet tooth at home, there are many ways to please his/her cravings. However, try to avoid store-bought sweet treats, you can bake something healthier at home instead. Maybe your toddler will be keen to help you.
Dinner
Porridge makes a great dinner as it is rich and wholesome. You can choose rice porridge, oatmeal, mush, buckwheat porridge and many more. You can alternate it with puddings, yogurts, cheese curd or soufflé.
Recipes for one-year-old toddlers
The range of food appropriate for your baby is getting wider and wider with each month passing. The first birthday is a significant milestone when it comes to food. Your baby is growing older, his/her digestive system is getting stronger. One-year-old baby should still drink milk (breast milk or formula) and eat a lot of veggies, fruit, pasta, low-fat meat, dairy, healthy fats found in high-quality oil and seeds.
Poultry – recipes
Chicken is usually the first meat baby eats because it is low-fat and easily digestible. You can start serving meat (pureed or blended) as soon as your baby turns 6 or 7 months. One-year-old babies can eat meat cut into small pieces. You can serve the chicken with all kinds of veggies, with rice, potatoes (mashed potatoes make an excellent side dish) or with pasta.
Roasted chicken tights
You will need: chicken tights (skinned), rice, 1 small onion, fresh thyme, vegetable broth, 1 bay leaf, olive oil
Preheat the oven 180 °C. Wash the tights thoroughly and pat them dry. Put them into a roasting pan, season and sprinkle with olive oil. Pour the broth into the pan. Add the chopped onion, thyme and bay leaf. Cover and bake for about 90 minutes. Bone them while still hot, cut the meat and serve with rice and gravy.
Pasta – recipes
When starting with pasta, it is recommended to start with an egg-free kind. Your one-year-old can also eat egg pasta, so it is up to your decision which one you will choose. Pasta makes a lovely and diverse dish. You can serve it with veggies, meat or even in the form of a salad or in soups.
Pasta salad for kids
You will need: Pasta of your choice, 200ml bottled water for babies, 1 tablespoon green peas, 1 carrot, 1 small courgette, corn, olive oil
Bring the water to boil. Add washed, peeled and chopped veggies. Cook until tender. Add pasta of your choice and cook according to the package instructions. Drain and sprinkle with olive oil.
Apple pies
Apples are usually very popular with children. In fact, apples are the first fruit you should introduce to your baby. Little babies eat apple purees; toddlers can eat apples chopped into pieces or used in sweet desserts such as pies or biscuits.
Apple biscuits
You will need: 200g apples, 200g rolled oats, 70g butter, 1 teaspoon ground cinnamon
Wash and peel the apples, core them and grind finely. Let them rest for a while. In the meantime, prepare oat flour. Add the oats to your blender or food processor, turn it on. After a few minutes, it should look fine and powdery. There will still be a few larger bits, just pass the oat flour through a sifter, and there you go. Easy a cheaper than store-bought oat flour. Mix the flour with the apples and the butter. Sprinkle with cinnamon and stir together until a soft dough forms. Cover the dough and let it rest in a fridge for about two hours. Take the dough out of the refrigerator.  Preheat oven 170 °C. Working on a lightly floured counter, roll into 5 cm thick circle. Using a cookie cutter, cut out rounds or different shapes and place on a parchment-lined baking sheet, bake for 15 minutes.
Spreads – recipes
Children usually love bread and rolls. If your one-year-old is one of those pastry-loving kids, you can serve it with home-made spreads. Spreads are easy and tasty; you can sneak in almost every kind of vegetable, so even those picky eaters can eat their daily five.
Chickpea spread
Chickpeas (from the legume group) are very nutritious and tasty. You need to soak them overnight and cook in advance. You better avoid using tinned chickpeas. Admittedly, it would be more comfortable and quicker, as it is already cooked, but it comes with a price. And the price is paid in salt, additives and preservatives.
You will need: cooked chickpeas, plain white yogurt, 1 clove of garlic, 1 tablespoon olive oil
Blend everything together until creamy and smooth. You can salt it (just a little) for older kids. Avoid using salt for babies under the age of 1.
Cheese spread
When choosing cheese for kids, be extra careful and read labels thoroughly. It is better to avoid soft cheese (casing) because of the high amount of salt and preservatives. You better chose cheese curds such as Lučina or Philadelphia. You can use standard cheese for older babies
You will need: Cheese curd, spring onion, chives or other fresh herbs
Mix everything together and serve with a slice of bread
Carrot spread
You will need: 1 medium-sized carrot, 1 small onion, 1 tablespoon sour cream, 1 egg, plain white yogurt
Grate the carrot, chop the onion and mix together. Add hard-boiled egg, yogurt, sour cream and stir until combined.
Lentil spread
Yummy, healthy and rich in protein.
You will need: 1 cup of lentils, 2 tablespoons butter, 1 small onion, olive oil, herbs
Soak the lentils overnight, drain, cover in freshwater and cook until tender. Remove from heat, blend until smooth and add chopped onion and herbs. Serve with wholegrain bread or with toasts.


---